Converting to Metric
Today's xkcd is, like most of Randall Munroe's comics, genius.
Converting to Metric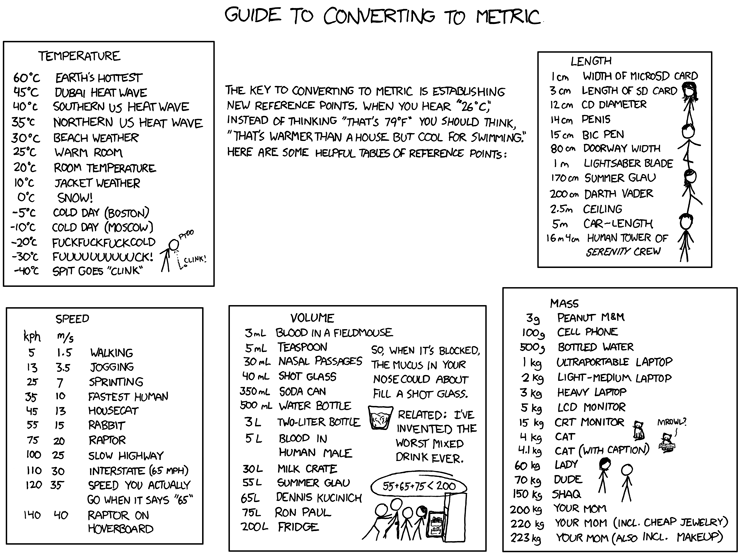 The jokes are, of course, funny. But Munroe makes a really good point here in his top-center "key to converting to metric". Students never get a really good sense of what metric is because of how it's presented. Just about every teacher says something to the effect of, "This is an inch, this is a foot, this is a pound. There are centimeters and meters and kilograms too, but you'll just about never use them."
We've all seen it in textbooks. There will be a passage like this: "The average weight of an American man is 175 pounds (79.379 kilograms)."
A metric conversion, when it's given, is a complete afterthought. It's presented with a ridiculously high number of significant figures, fresh from the calculator of the editor responsible for making sure the book sells well in Canada too.
What does this say to students? Everyone loves 175 pounds! Who would really give their weight as 79.379 kg anyway? Screw the metric system!
Even favoring English units over metric, my former students, surprisingly, didn't really know how heavy a pound is or how far 100 feet is. Math teachers spend so much time teaching students that there is one correct answer that they forget how important estimation is in real life. So we might as well work on drilling centimeters and kilograms into their brains while they're still open to anything.
Metric isn't about conversions, it's just another way of seeing things. It's a slightly different language, one that the entire rest of the world is comfortable with.
Americans have a world-famous sense of entitlement. Our rabid adherence to meaningless tradition generally leads us to avoid that which is easy, sensical, or superior, in favor of that which is more complex or vastly more expensive. (How many Sacagawea dollars have you seen around lately?)
Despite all this, America really does use metric when it counts. Scientists use the metric system pretty much always. Engineers use metric as much as possible, though they'll still pull out a twelve-inch ruler when working with old toolsets or equipment. Does it matter that speed limit signs say "50 mph" instead of "80 km/h"? Probably not.
But despite the economic downturn, globalization is still happening. Something as apparently inconsequential as our preferred system of measurement is important so that we can remain conversant with the rest of the world. It's important for our students and us to become not just familiar with metric, but comfortable with it. Not just as a means to convert numbers from one language to another, but as a way for all of us to speak the same numerical language.
Tags: comic, estimation, funny, measurement, metric, munroe, numbers, si, xkcd